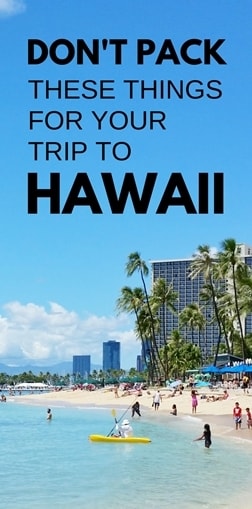 ALOHA!
Once you've booked your flight to Hawaii…
And once you've booked your hotel in Hawaii…
It's REAL!
You are going to Hawaii!
So then what's next?!
Now you really need to figure out what you want to do in Hawaii, and you also need to figure out what to bring with you!
Well…
Here are some of the best things to bring with you in Hawaii…
What you need for a trip to Hawaii
And then…
Here is a list of some things to leave off your Hawaii packing list.
Sunscreen that is bad for marine life
Of course you must wear sunscreen in Hawaii.
And if you have ANY plans at all to get in the water, and not just stay on the beach, then make sure you get the GOOD sunscreen.
The biggest issue is that there are concerns that most of the popular sunscreens are made with harmful chemicals.
And the concern is that these chemicals are killing the coral reef.
Why should you care about coral reef?
Even if you're not an environmentalist, here's why you should care as a traveler.
Because one of the most popular activities in Hawaii is snorkeling. And why do you go snorkeling? So that you can see the colorful tropical fish.
Well, if there's no reef then there will be no fish.
So to keep the fish around, you want to keep the reef around!
So basically, if you want to keep snorkeling with the colorful fish (and want to help others do the same in future years to come) then it's best that you be a "responsible tourist"!
Do you want to be a responsible tourist?
Of course you do. 😉
So consider buying sunscreen that doesn't have ingredients that are going to be a part of the Hawaii sunscreen ban.
When looking for sunscreen, look to see if it has the ingredient OXYBENZONE. This is one of the main chemicals that a lot of sunscreen products are made with that is said to be harmful to marine life.
How big of a deal is this oxybenzone stuff to Hawaii?
So big of a deal that the state of Hawaii is going to make it ILLEGAL to sell any sunscreen containing oxybenzone.
A law was passed, which is set to go into effect in 2021.
You can also look for sunscreen that's deemed to be reef-safe sunscreen. Much of the time the alternative ingredient that's safe for coral reef is zinc oxide, making it a type of mineral sunscreen.
Although, just because it's "mineral sunscreen" doesn't always make it reef-safe.
And if saving the reef isn't enough to motivate you to use this sunscreen, the products listed above are enriched with antioxidants and vitamin E.
What does that mean?
It's good for the skin, too! (These are also common ingredients used in anti-aging products.)
If you want to pack super light for Hawaii and want to wait to get most of your sunscreen when you get to Hawaii, buy travel-friendly sunscreen at home to hold you over for your first day or two, and then buy sunscreen when you arrive in Hawaii.
How much does sunscreen cost in Hawaii?
It likely won't cost you more than $1-2 more per regular bottle than you would pay at home.
Here's a deeper look at sunscreen prices in Hawaii at grocery stores vs convenience stores so you can do a little price comparison of Hawaii vs your local store.
Beach mat
There are obvious uses for having a beach mat when you're in Hawaii!
And if you're wanting to use a beach mat in Hawaii, instead of bringing it from home, this is something that you can find easily once you arrive.
This means more space in your luggage and one less item to add to that Hawaii packing list!
You will likely find straw-like beach mats for less than $5 at the local convenience store.
Beach floats
This is something that can make your time on the water that much better!
Of course you want to float in the ocean!
See some family-friendly activities in Waikiki.
Yet again, this is something you can find for a decently reasonable price once in Hawaii.
Beach tote bag
Surely you are going to want to buy some very Hawaiian items that you can take home with you.
A beach bag can be a great thing to buy in Hawaii that will help you feel the ALOHA spirit when you return home!
You can use this bag back home for casual outings, and you can use it as your reusable grocery store bag too.
So this is something you may not want to bring with you to Hawaii, and instead get it when you arrive.
In what situations would you WANT to bring these items from home?
While you can find all of these things in Hawaii, you may want to bring them anyway.
After all, it does take time to head to the store!
While if you are staying at a hotel in Waikiki, you will find a convenience store just a few minutes walk away, you may not want to spend that valuable vacation time shopping for the essentials! Maybe you want to head straight for the beach.
So if you want to start off your vacation knowing that you don't have to buy anything when you get to Hawaii, then be sure that you DO add these items to your Hawaii packing list!
Things to bring to Hawaii
And now for more things that you definitely DO want to bring to Hawaii:
ABC stores: Hawaii's ultimate convenience store (and souvenir shop!)
THE convenience stores in Waikiki are called the ABC stores.
You can't miss them if you're staying in the Oahu hotspot of Waikiki.
These stores are like Starbucks in Seattle (and other big cities). They are everywhere and it's like they are competing with themselves.
They are also located on Maui, Kauai, and the Big Island.
You can find the best Hawaii souvenirs here, and it will be like a very convenient one-stop shop for you to do souvenir shopping for those back home!
When it comes to souvenirs, each ABC store may carry something a little different, so don't think that just because you've visited one that you've visited them all!
For example, the ABC store located near the Hilton Hawaiian Village (one of the best hotels with nearby family activities even for non-guests) has a pretty big store with tons of fun items that can give you Hawaii inspiration once you're back home.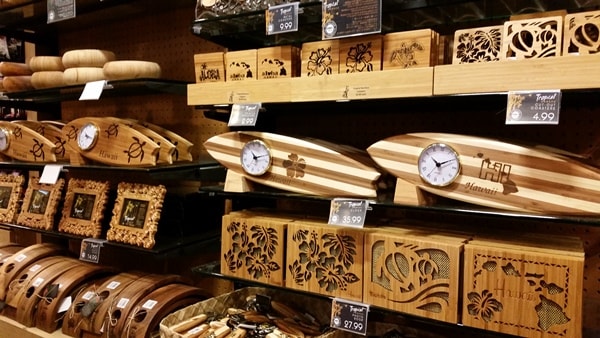 And here are some things to do in Hawaii
HAPPY LIGHT PACKING FOR HAWAII!
There are affiliate links on this page. Among other partners, as an Amazon Associate, I may receive a commission.
Best shoes for your active vacation
Hit search at the top for any of these items to get more variety on Amazon through these affiliate links!
- Walking:
These types of hiking sandals.
For walking in hot weather, they are more breathable than shoes, while still giving you necessary traction on the trails. Also see
more about the best shoes for hiking in Hawaii
.
- Beach:
These types of beach shoes.
For beach walking, wading in the water, and rocky shorelines, they can prevent cuts from hidden rocks or when bumping into coral reef.
Swimwear for snorkeling and beach
-
These UV protection shirts are a hit
so you don't have to keep re-applying sunscreen and don't have to worry as much about getting sunburn!
see more:
-
What to wear hiking
-
What to wear snorkeling