There are a number of free things to do in San Juan to explore the history and culture of Puerto Rico on your own as long as you don't mind a little walking!
So get your walking shoes on with a water bottle in your daypack and be ready to explore San Juan! There is a lot to explore in the way of history and culture in Puerto Rico!
For this day's itinerary, let's make the goal to visit two UNESCO world heritage sites and U.S. national park sites with San Juan national historic sites!
5 things to do in San Juan that just might make you love Puerto Rico
Here's the quick list first:
And for more ideas of things to do around San Juan, here are some of the best activities from San Juan.
Walking around Old San Juan
1: Cobblestone streets and colorful buildings
On your way to the world heritage sites, forts, and old city walls, no matter the path you take, you will come across colorful architecture and cobblestone streets, signifying Puerto Rico's colonial past.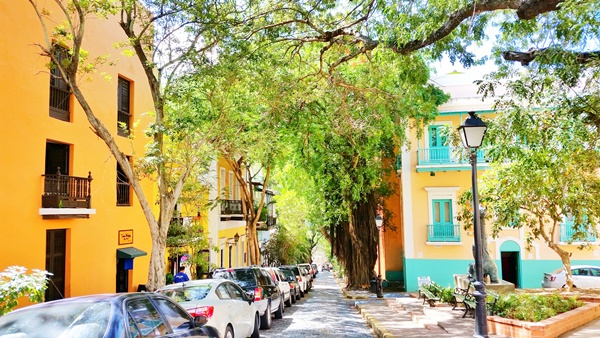 2: San Juan forts and old city walls
So on this trip of things to do in San Juan, you have two main destinations.
Both are world heritage sites, both are a part of the San Juan National Historic Site, and both are main fortification sites.
One of the forts is Castillo San Cristobal.
This fort was built by Spain and is the largest Spanish fort that was built in the Caribbean.
The other fort is the Castillo San Felipe del Morro.
This is the fort that you can see prominently as you are arriving and leaving the cruise port.
The time to get between each of the Old San Juan forts and the cruise port if you take the shortest path:
Castillo San Cristobal is about a 10 minute walk from the cruise port
Castillo San Felipe del Morro is about a 30 minute walk from the cruise port
It is about a 20 minute walk between the two sites
Other things to factor in when planning out your time:
You may want to spend extra time at each of the forts. There is a nominal fee to enter.
You may want to spend extra time getting to and returning from the forts by wandering the narrow streets of Old San Juan.
If you'd like to visit more historic sites on your way back to the cruise ship, have a look at this interactive Old San Juan map from the National Park Service that marks historic points of interest.
From Castillo San Felipe, you can walk past these sites by making slight detours here and there, and it adds little distance to your route.
The cruise port is located at the lower right of the map and is indicated by a cruise ship that is docked.

San Juan National Historic Site
The Castillo San Cristobal and the Castillo San Felipe del Morro make up the San Juan National Historic Site along with most of the city walls, the San Juan Gate and Fort San Juan de la Cruz.
Being a national historic site means that it's a part of the national park system!
Visit the National Park Service to learn more.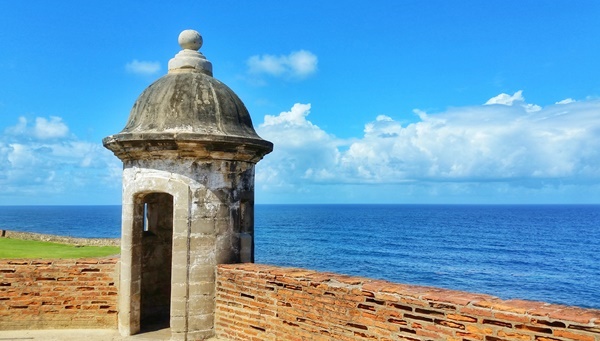 3: Walking path overlooking the ocean
Another one of the things to do in San Juan is to take the walking path that overlooks the ocean.
This is also the path that can take you between two world heritage sites of the prominent San Juan forts if you choose to take the coastal path!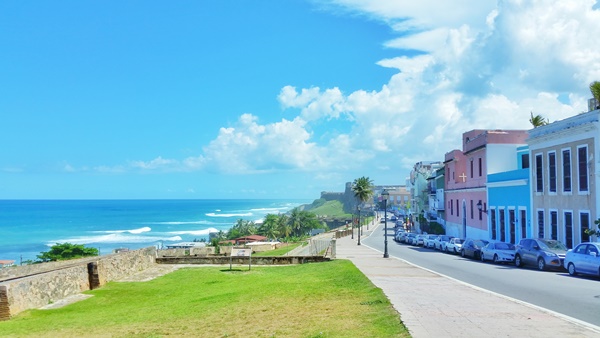 Back to San Juan cruise port and on the ship
4: Cruising away from San Juan cruise port: Don't miss it!
After an exciting and active day walking all around San Juan, you might be tempted to grab some food for a bite to eat or rest up in your stateroom as the ship is departing the cruise terminal.
But get yourself on the open deck so you can catch the sail away!
It's quite a sight to watch the historic San Juan fort from the ship!
If you can catch it as you're sailing into San Juan in the morning, that works too, but there's just something special about watching the fort get further and further away until you just can't see it anymore!
On the ship and anywhere in port
5: You can use your phone!
You can text. You can use data. You can post to social media. Anywhere in port!
"Really? That's what's going to make me love Puerto Rico?"
Yes, really! 😉
Since Puerto Rico is a U.S. territory, you can use your phone as if you're in your home U.S. state.
If you're on a week long cruise, and Puerto Rico is day 5 of your cruise, yes, you will absolutely love the fact that you can finally freely use your phone!
After being at sea or on Caribbean islands where you'd have to pay extra or not use your phone at all, those 4 days without your phone just may seem excruciating!
So by the time you reach Puerto Rico to be able to use your phone, you just won't be able to wait to use your phone!
Or. Maybe you just don't care about not being able to use your phone. 😉
Things to maybe pack for your cruise to San Juan!
Now, here are some things that you just may want to add to your cruise packing list!
And see if you like any of these top tours from San Juan!
HAPPY SAN JUAN CRUISING!
Explore pictures of more Caribbean cruise ports: aruba | curacao | turks and caicos | st kitts | nassau | cozumel | grand cayman | st maarten
More cruise tips:
– Cruise insurance: Should you get travel insurance for your cruise?
– What NOT to pack for a cruise
– How to prevent cruise luggage from getting lost on the cruise ship
– Evening activities on a cruise
– Flying Southwest: Budget airline flying to many U.S. cruise ports
– Bahamas: Things to do near Nassau cruise port
– How to prevent seasickness

Cruise tips on Pinterest: Follow the Cruise Travel board!
Best shoes for your active vacation
Hit search at the top for any of these items to get more variety on Amazon through these affiliate links!
- Walking:
These types of hiking sandals.
For walking in hot weather, they are more breathable than shoes, while still giving you necessary traction on the trails. Also see
more about the best shoes for hiking in Hawaii
.
- Beach:
These types of beach shoes.
For beach walking, wading in the water, and rocky shorelines, they can prevent cuts from hidden rocks or when bumping into coral reef.
Swimwear for snorkeling and beach
-
These UV protection shirts are a hit
so you don't have to keep re-applying sunscreen and don't have to worry as much about getting sunburn!
see more:
-
What to wear hiking
-
Snorkeling essentials for Hawaii
-
What to wear on a cruise formal night
more Hawaii travel tips:
- OAHU:
--
Oahu travel planning map
--
3 day Oahu itinerary
--
2 week Oahu itinerary
--
Best short hikes on Oahu with amazing views
- BIG ISLAND:
--
Big Island travel planning map
--
7 day Big Island itinerary
--
Best beach hikes on the Big Island with amazing views